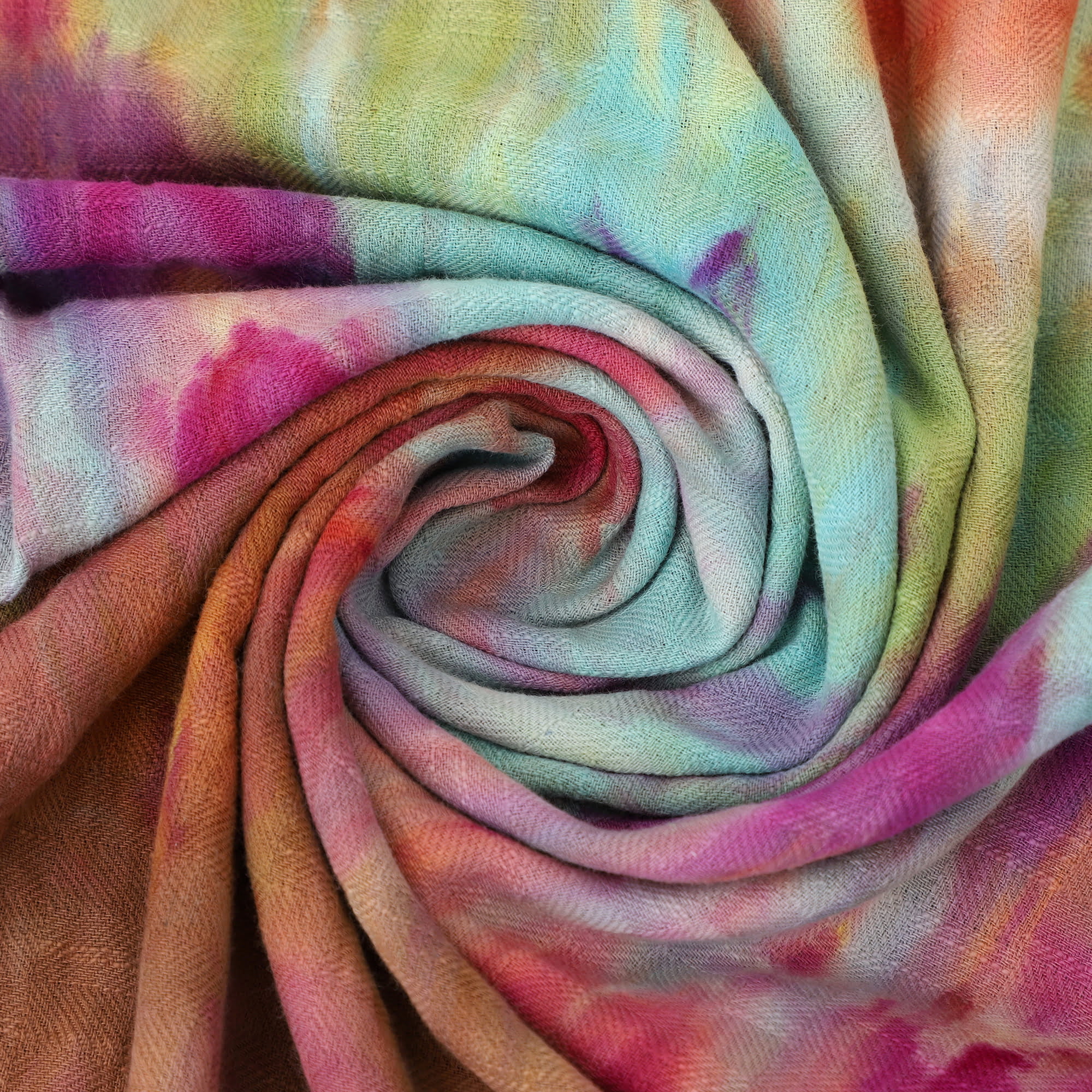 Since 1978 the Tye-Dye reactive dyes replaced the traditional natural colours for faster production fast colours, bright colours, easy pro current easy to use, cheaper, longer life and most important are non-toxic. As per the today's environmental conditions our reactive dyes are disposable. Using a PH paper test it can be disposed in the drain. A dyebath containing Soda Ash neutralize the Alkaline with vinegar and if containing Acidic acid or vinegar add Soda Ash.
The correct Ecological & Azofree dyes for Tie dyes, Batik, Garment dyeing, Spray dyeing, printing & sun dye all natural fibers of cotton, viscose rayon, silk & Linen.
Using our dyed can be handled by all ages. You can Hand dye in a Tub, Machine or by Application. All you need is the Material to be dyed (only natural fiber's ) is our dyes, warm water, soda ash, plain salt, calsolene oil, urea a thickener.
Tie Dye Reactive Dyes
To Get perfect & repeatable results follow the % dye of fabric weight. Normally you can use a tablespoon for estimated dye. The formula is one level table spoon = approx. 10 grams.
Special Note-
Concentration of dye per fabric weight differs colour to colour.
The chemicals used also differs colour to colour check our chemical chart as per colour for accurate results.
The time used to react the dye with the particular fabric/yarn differs colour to colour check our timing chart as per colour for accurate results.
Bought the dye – now How to use it.
Reactive dye means reaction process of dyes with the molecules of the natural fibre
Tie-Dye Process –
Tying/Folding/Crushing. Use impregnated process.
Batik Process-
Block resist/brush resist with wax or bees wax. Use impregnated process or climatic process hand.
Garment dyeing process –
Plain dyeing/washed effect/ old changed to new use – machine climatic process & implemented process.
Spray dyeing process –
Resist blocks/resist oils. Use – after impregnated process.
Printing Process –
Motifs by brush or Hand/Screen/Block. Use – impregnated process.
Painting Process –
Hand Painting & coloring. Use-after impregnated process.
Sun Dye Process –
Tie/Bangled/Resist blocks/crushed & sun dried. Use-after impregnated process.